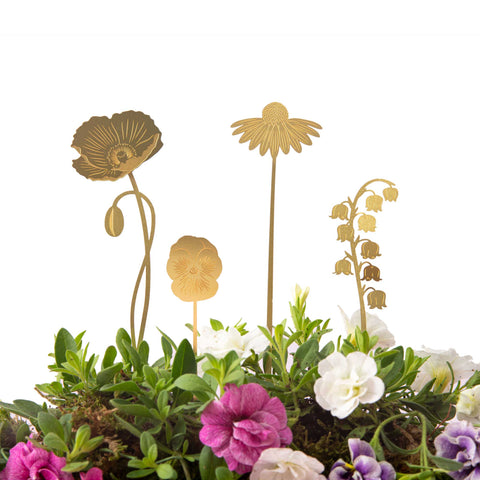 Another Studio for Design Ltd
Brass Blooms Garden Botanicals Plant and Terrarium Decorations
"Brass Bloom Garden edition, are decorative botanical ornaments.
They can be placed in your plant pots or terrarium to create a tiny garden that is forever in bloom. The flowers come on a flat sheet and will need a gentle twist to free them - instructions are included on the packaging. Included in the set: Pansy, Poppy, Lily-of-the-Valley and Echinacea.
Per unit: 1x Brass Bloom sheet with 4 flowers Made from corrosion-resistant brass Packaging: 100% recycled FSC paper with a biodegradable cellophane film, 12.5cm x17.5cm Flower measurements are approximately: Pansy - 8.5cm x 2, Poppy - 13cm x 3.5, Lily-of-the-Valley - 10cm x 2cm, Echinacea - 15cm x 3cm"